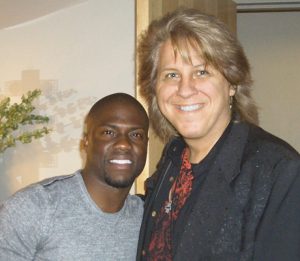 Kevin Hart's is one of the world's biggest stars. His movies gross millions, as well as his successful live concert tours. In fact, his 2015-2016 What Now? Tour was the 12th highest grossing concert tour of 2015. Earning $82.2 million worldwide, it ranked even higher than music legends such as Paul McCartney (#13) and Elton John (#14), and is the highest grossing comedy tour of all time. It also marked the third consecutive tour that Starr produced Kevin's stage backdrops.
Starting with Hart's 2011-2012 Laugh At My Pain Tour, Starr has designed and fabricated every backdrop Kevin Hart has ever used on stage. For Laugh At My Pain, Starr created two eye-catching city skylines of Hart's hometown of Philadelphia, one with green hues and another with red accents. Each featured images of Hart projected onto skyscapers, and a giant scaffold sign with his name on it.
Kevin continued trusting Starr's expertise for his 2013-2014 Let Me Explain Tour. This time Starr created four different backdrops, one measuring 20'T x 40'W used mostly for theater dates, and a second larger 30'T x 60'W drop, flanked by two smaller 10'T x 15'W backdrops, used predominantly for arena shows.
For Hart's What Now? Tour Starr produced two separate backdrops. One 30'T x 60'W for his opening act "The Plastic Cup Boys", and a second 30'T x 60'W What Now? main stage backdrop.
In addition to creating all of Kevin Hart's backdrops, Starr also created an illusion to make Hart magically appear on stage to open every show of his Laugh At My Pain Tour. Starr also choreographed dancers, and trained Kevin to perform the illusion.
For more info on Starr's Company: