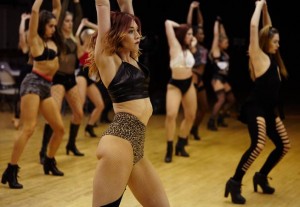 April 28, 2016 – Starr has been selected as production designer for a brand new show titled Cherry Boom Boom opening in September at the Tropicana Hotel & Casino in Las Vegas.
Cherry Boom Boom will be produced by a triple threat of uber-talented, self-described badass broads: Robin Lindsley Allen (who danced with the Pussycat Dolls is creator/director and choreographer); Shana Betz (an actress and film director is the show's co-producer); and Lynn Garlock Wright (another of the show's producers and it's operations director).
Associate director Carla Kama, an industry veteran who has worked on productions for Madonna, Steven Tyler, Michael Jackson and others, joins the trio at the Tropicana.
The design and fabrication phase is planned for this spring and summer, with a target date of September 8th to begin previews. The production officially opens on September 27th, and will be featured in the Tropicana's main showroom. It will contain a large multi-tier, rock-n-roll influenced set measuring over 60 feet wide and 10 feet tall.
For more info:
http://www.troplv.com/las-vegas/shows-entertainment/cherry-boom-boom
http://www.cherryboomboom.com/