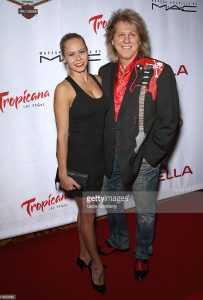 Oct. 21, 2016 – Las Vegas, NV – On Thursday Sept. 29th Starr walked the red carpet at the Premiere of Cherry Boom Boom at the Tropicana Hotel & Casino in Las Vegas. Many celebrities were on hand including Pussycat Doll Carmen Electra, TV host Robin Leach, Carrot Top, former Baltimore Ravens player Gerome Sapp, magician Lance Burton, BMX champ Richardo Laguna, the cast of Thunder From Down Under, and other Las Vegas stars. In addition to PCD Carmen Electra, a group of other Pussycat Dolls showed their support including Carla Kama, Carmit Bachar, Kasey Campbell, and Staci Flood.
Cherry Boom Boom is being billed as "a rock n' roll a-go-go…". Starr is the set designer for the production. The show's producers include another of the original Pussycat Dolls, Lindsley Allen, as well as movie director Shana Betz. Starr and Shana worked closely together to capture the edgey, rock n' roll feel that the creative team wanted for the massive stage set.
The show runs nightly at 9:00 pm Wednesday through Monday in the main showroom at the Tropicana.
For more info & tickets:
http://www.cherryboomboom.com/